The Pinot Noir grape is the great and undisputed protagonist of wine production in Oltrepò Pavese. Considered, since the time of Strabo, a quality wine production area.
Some ampelographers hypothesize the presence of the original Pinot genotypes already present on the Oltrepò hills since Roman times. An important testimony comes from the find of a vine branch, dating back to prehistoric times, found near Casteggio, once called Clastidium.
In the second half of the nineteenth century, Pinot Noir, as we know it today, arrived in Oltrepò Pavese and was subsequently tested throughout the peninsula, but most of the wineries evaluate the production only as a blending grape and surprise with early ripening. as well as the breeding difficulties, he abandoned the project. Only in Oltrepò Pavese does the vine find its optimal habitat.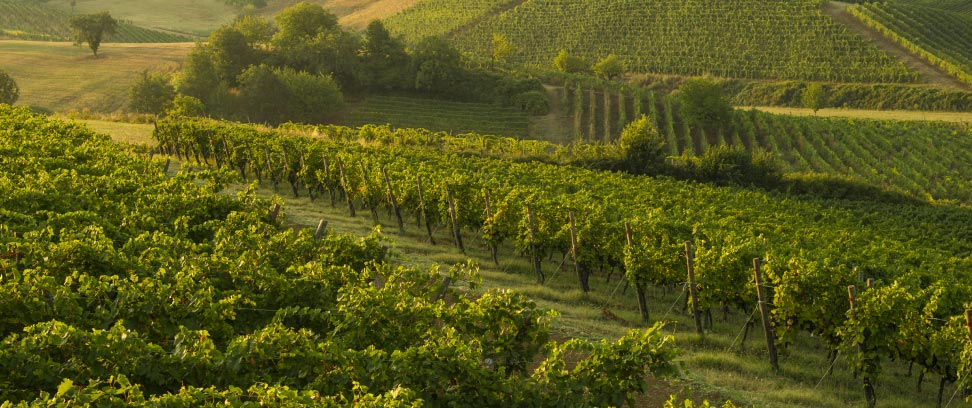 Oltrepò Pavese is that hilly strip of land south of Lombardy known for being the meeting point of four regions: Lombardy, Piedmont, Liguria and Emilia Romagna. This peculiar feature makes Oltrepò Pavese rich in different cultures, languages, traditions and cuisines, but well integrated with each other.
Equidistant from the North Pole and the Equator, where the lunar freshness of the North meets the solar heat of the South, is the 45th parallel, the quintessence of natural balance for the vine plant.
Our landscapes are characterized by the alternation of vineyards, meadows and wooded areas. The hilly area is characterized by high temperature ranges and a temperate climate particularly suitable for the production of Pinot Noir.
The composition of the soil plays an essential role in Oltrepo 'Pavese. Our land is rich in marl, limestone, galestri and gypsum, essential elements to give a broad aromatic profile and an excellent acidic endowment of the musts.
The great porosity of these minerals makes our earth a real water reservoir (from 300 to 400 liters per cubic meter), which ensures the plant has sufficient water even in the driest summers. Since gypsum retains water by capillarity, the vine must make a significant effort to absorb it. This situation causes, during the growing season, a moderate water stress, which favors the balance between the different acids contained in the fruit, the sugars and the precursors of the aromas that will then emerge in the wine.
Combining these components together, they create a unique and ideal habitat in Oltrepo 'Pavese for the cultivation of Pinot Noir, giving our wines an inimitable typicality.